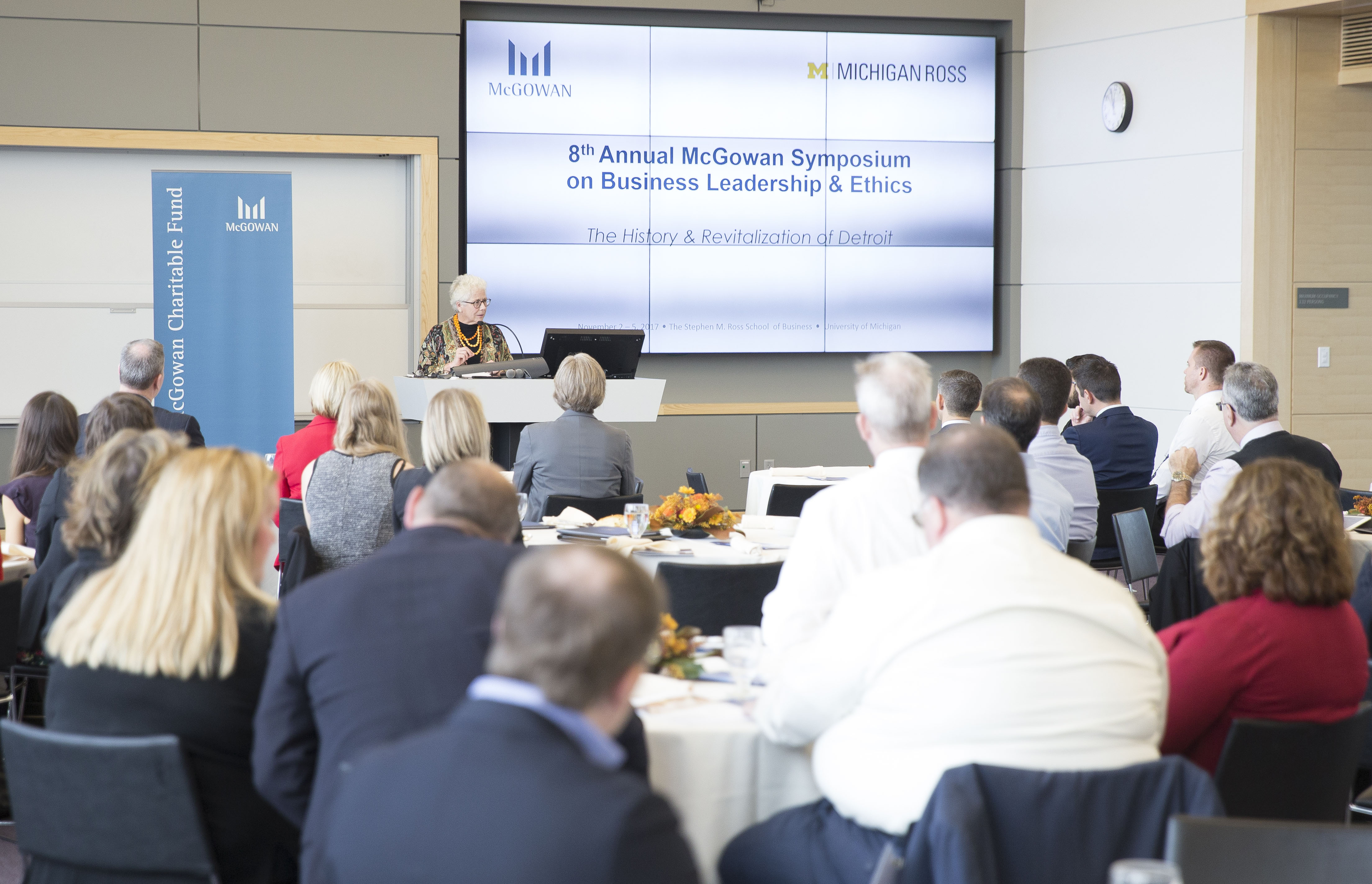 In launching the McGowan Fellows Program, the McGowan Fund board of directors recognized that the program must be more than simply a scholarship initiative. If they hoped to achieve their goal of advancing principled leadership, the fellowship must incorporate an opportunity for discourse and a way to foster a community that reinforces the McGowan ethos. As the living component of the Fellows program, the annual McGowan Symposium on Business Leadership & Ethics welcomes new Fellows into the McGowan community and provides the opportunity to engage in meaningful, sometimes challenging conversations with peers; alumni; recognized leaders in business, government, and academia; and thought leaders from outside their own MBA programs.
The Symposium weekend is annually organized in collaboration with and co-hosted by one of the 10 McGowan Fellows Program partner schools. The weekend takes place on the host campus and offers the organizing university an opportunity to showcase faculty expertise.
This year's event will take place on Friday, November 9, 2018, co-hosted by Duke University, Fuqua School of Business, and will feature prominent leaders from diverse backgrounds:
David Batstone, Founder & Managing Director of Just Business, Professor of Entrepreneurship & Innovation at the University of San Fransisco;
Melissa Bradley, Managing Director at Project 500, Adjunct Professor at McDonough School of Business at Georgetown University;
Vincent Conitzer, Professor of Computer Science, Economics, and Philosophy at Duke University; and
Rhett Mabry, President of The Duke Endowment.
Past symposia have taken place at Georgetown University (2011), Northwestern University (2012), Dartmouth College (2013), University of Chicago (2014), Columbia University (2015), University of Pennsylvania (2016), and University of Michigan (2017), examining such topics as global inequality and socially responsible innovation.